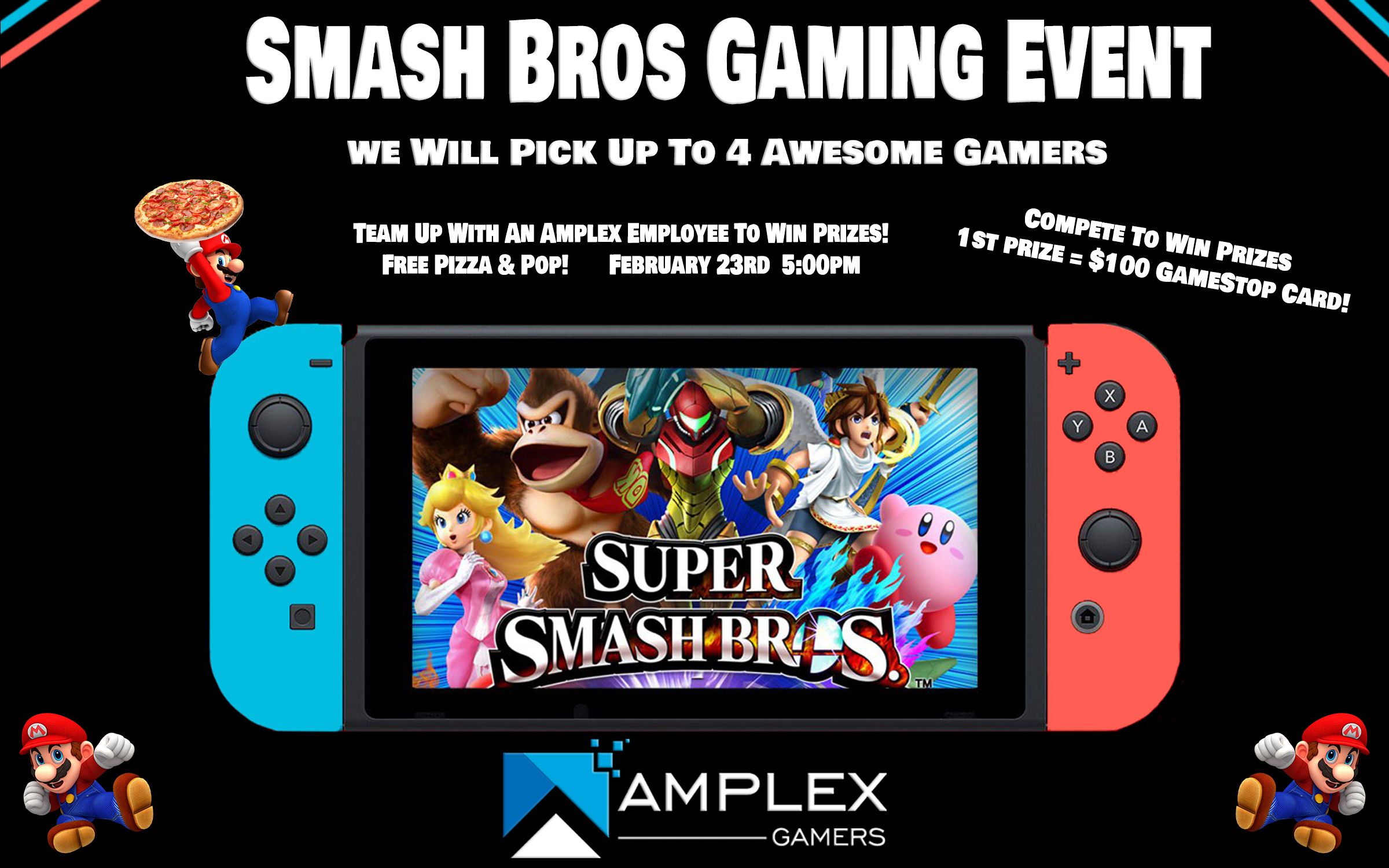 Amplex Gaming Event - February 23rd at 5:00pm

Contest Rules and Regulations

Who can enter?
Amplex Internet gaming contest is open to current Amplex customers or household member.
We will randomly draw 4 contestants, whom will be contacted via phone or email.
Age to Enter?
Contest is open to customers age 14 and over. Under 18 years of age must be accompanied by adult or legal guardian.
Who will play?
Each Amplex employee will be teamed up with one customer, to create a Smash Bros team.
Customers will draw a number that corresponds to the Amplex employee and will determine their team-mate.
All gaming rules will be explained before the gaming contest begins.
Videogame console and controllers will be provided. You may bring your own controller.
Gaming event will end no later than 7:00pm, and may end earlier, depending on game-play results.
What are the Prizes?
First place winner will receive a $100 Gamestop gift card.
Second place winner will receive a $50.00 Gamestop gift card.
Third and fourth place will each receive a $25.00 Gamestop gift card.
All contestants will also receive an Amplex gift bag.
Where is the gaming contest held?
The contest will be held at the Amplex Internet office, in the conference room.
Amplex office address:
22690 Pemberville Road
Luckey, OH 43443
(located just off Rt 20, across from the Home Depot warehouse)
Additional Info:
Contest date subject to change due to weather or uncontrollable circumstances.

Fun and professional environment. No foul language or personal attacks will be tolerated.
Amplex Internet is not responsible for personal effects, nor loss or damage of personal items.
Gaming contest to be held in the Amplex conference room. Visitors are limited to the approved areas only.

By emailing your name and phone as an entry chance for the contest, you fully agree to all the above rules and statements.

Contest open until February 12th, and winners notified by February 15th. Please be sure you will be available on the 23rd before entering!

Please email your name, phone number, and a bit about yourself (gaming, hobbies, anything of interest) to:
gaming@amplex.net